Anti-Aging Natural Face Cream *AWARD WINNING*
Anti-Aging Natural Face Cream *AWARD WINNING*

Price:
$39.00
Code: AAFACECREAM
Available for immediate delivery
Anti-Aging Natural Face Cream *AWARD WINNING*
*Enhances f
acial contouring and restores skin's younger, up-lifted, fuller, brighter, calmer and more velvety appearance
.*
We make our Award Winning powerful and gentle silky plant based natural face cream
with plant stems cells, peptides, hyaluronic acid, vitamin C, amino acids, collagen and elastin boosters
to enhance facial contouring, plump, re-firm and restore skin's younger, up-lifted, fuller, brighter, calmer and more velvety appearance. Does a wonder at lessening the look of deeper wrinkles, sagging and crepiness. Chosen by USA Today's App.com as their top 10 Fall Health, Beauty and Fashion Trend items.

Directions: Apply 3 pumps in upward strokes onto face and neck morning and night and when needed throughout the day. Will not clog pores. STORE IN A COOL DRY PLACE.
For lighter hydration and less lifting and firming power, try our Anti-Aging Face Lotion.





*
We make two versions of our Anti-Aging Natural Face Cream. One with extra Anti-Aging ingredients and one containing Zinc Oxide and Titanium Dioxide for the Outdoors.
Our Anti-Aging Natural Face Cream for the Outdoors is made with all-natural Zinc Oxide and Titanium Dioxide which are natural mineral mica's (the same as what are used in mineral make-up) that sit on the surface of the skin acting like tiny mirrors to deflect UVA and UVB rays, resulting in skin that looks radiant and fresh as it is protected. Our Outdoor Anti-Aging Face Cream is approximately spf 30. These spf levels have not yet been confirmed by the FDA.
CUSTOMERS AND MAGAZINE'S LOVE OUR PRODUCTS!
"I am loving your anti-aging face cream (extra anti-aging). It is very calming! My skin is looking much clearer. It is so surprising what this one product has done!" ~ Megan
"I have to tell you that I went to Head to Toe Day Spa for my first facial since the pandemic - just a simple one without special treatments. The esthetician who worked on me commented that my skin looked great with no issues that she could see, not did she have any recommendations for changes in my routine or products. Even my pores were pretty clear; she just did three small extractions. I truly must credit those results to your awesome products!" ~ Martha
"Your products are fabulous!"~Julie
"
People say my skin looks twenty years younger than my actual age. I"ve been using your products since your first Show in WS. Thank you Joan for all your years of research and hard work. Your product line is simply the best!!" ~ Jeanne
"Love your products!
Anything you offer will be 10X better then whatever else is out there now. Hope that you and your products are around for may years to come" Thanks, Liz.
"I know it's your policy to include samples with all orders, but I want you to know that each time I open up my bag, it's like I've won a special prize. Your generous gesture is appreciated" ~ Magda
"I love your products! The face cream and sunscreen is excellent as is the eye gel. I can tell when I don't use it!" ~ Lynne
"Everything I have tried has been great. Love the way these products feel on my face and I have noticed a difference in the way my face feels and looks since I started using the them. I'm not very good at spending money on myself but your products just made me do it! Huge kudos to Joan!!" ~ Lorna
"I LOVE everything I have ever ordered from you. I have sensitive skin and have never broken out using your products and my skin looks great. I first discovered you at the Seattle Street Fair on my first trip to the Northwest." ~ Nancy
"After moving east of the mountains my skin is getting use to a whole different climate. Everything is so much drier here so I rely on your nourishing

body lotion

e

ven more!! Not to mention your amazing face products." ~ Verna
"Hi, Joan. I really like the pivot pump dispenser on the face creams. To pivot the pump open/closed is much easier for me to use than to cap/uncap the pump:
- easier to press (a smoother feel & action under my finger (like ergonomics), I feel less resistance or sticking when pressing down)
- perfect amount of product dispensed (I had a hard time getting the right amount to dispense with one press with the cap pump, I was getting too much or not enough)
- storage is better (clicking the pump open/closed with a turn is easier than me fumbling with a small cap)
Your products are fabulous and your product samples generous - as always, thank you & thank you." ~ Linda
"I love your face creams!
I'll be 60 this January and I have no wrinkles to speak of!!! ~ Jean
"Hi Joan, I had yearly skin check for Rosacea. My dermatologist loved my skin! She took down your info and wants to refer patients. I'm so grateful for how your formulations have healed me!" ~ Jackie
"Hi Joan! I'm out of just about everything (even used the last drops in my travel kit!). I tried using my old brand of face cream but my skin just wouldn't have it! NO ONE believes I'm almost 62, and my skin feels better that ever.
So time to re-order!" ~ Lori
"I
love, love, LOVE the Face Cream!! My skin says thank you every day." ~ Micheleis
"I bought some of your anti-aging face cream for my daughter in law in Illinois. I was late in ordering and was afraid she might not get it in time for her birthday. You not only gift wrapped it beautifully with a personal note but made a special trip to the post office on a Saturday to be sure it arrived it time. I was so pleased and she loves the cream. Thank you !!!
"We feel fortunate to be using your fabulous product for years . . . and years to come" Joan Haley
"Hi Joan, Since using your products, my skin, which wasn't bad, has improved elasticity, clarity and fewer notificeable lines. I am almost 70, and I don't look it due to your anti-aging formula's. Thanks for your wonderful formula's!" ~ Maureen
"I used your Rosacea recommended products today. They totally calmed my skin. I could cry. It's been pretty rough and getting worse. Thank you"

"I use your wonderful skincare every day and night. My skin feels "So Alive" now. The ladies on my vacation complemented me on my clear skin and said Audrey you look 50...not 70. I've always kept myself healthy, young and work out to stay that way. There's a BUT here. It's your product that enhances my skin Even More and it will for everyone else as well. My skin was glowing and was protected from the sun while we were at the lake. You are a blessing to many people. Thanks again for everything." ~ Audrey

"I have very sensitive skin and Rosacea (and had Acne when younger and again as an adult, so I have enlarged pores and scarring) and have struggled to find a higher end Anti-Aging Natural Face Cream that actually works and this IS IT (and I LOVE your Rosacea Toner and Rosacea Elixir, Anti-Aging Face Wash and Lift, Tighten and Contour Gel and Advanced Eye Gel too)! I'm 51 years old and my skin has never looked better. I was getting jowls, sagging around the cheeks and wrinkles in addition to thicker skin with bumps and redness, and my skin is now porcelain looking, calm, youthful, firm and radiant (face, neck and chest). Other Face Creams I've tried were expensive, irritating, suffocating/did not absorb into the skin and made my skin oily and red. I was looking at the ingredients in your Natural Face Cream and they are amazing. I've seen some of these ingredients in other natural Face Creams that are around $300 for the larger size you make plus you have even more good things in one formula! So, thank you!!!
"These words are from from my heart - my skin looks truly radiant!!! I will be taking your amazing products on holiday for
I know our family will "L
ook n See" the difference in my skin tone!!
It was fine before but now it truly is radiant. ~
Your Canadian friend
"I love your Anti-Aging Face Cream and Advanced Eye Gel! After a day in the sun and salt water in the Caribbean, my skin just slurped it up and made it feel smooth again!!! Also the Hive & Scrape Balm was very helpful for cuts and mosquito bites!" Antje - Seattle, WA.

"Olive Branch skin care - So glad I found you!! I'm 62 and your Anti-Aging line is the first I've found that really does ease the fine crepe on the surface of my neck and face. Thank you!" Lisa – Bellevue, WA

"I have been using Olive Branch products for over a year. There's nothing simple about them, absorbs really fast, they last for the whole day/night and they smell amazing! I use the face crème as a make-up base and it keeps everything on for the whole day! I also use the make up remover and I like both way better than the big very expensive brands I used to use before I met Joan at a Show in Seattle."

"I have been using the Olive Branch face care products and body lotion for the past few weeks and have already noticed a reduction in fine lines and dryness! My skin is firmer and at 62 years old I thought my skin would continue to look worse and thanks to Olive Branch products it looks better! I have some dry patches with psoriasis on my legs and using the Body Balm for a few weeks has helped clear up half of the dry patches and psoriasis. I have very sensitive skin and these products are very gentle. Thank you Olive branch for helping me look younger and feel better about myself!" Judy - Seattle, WA

"Love, Love, Love the face creams (both day and night ones) and have them on my counter for daily use, have them in my travel bags and carry the day one to the gym - wonderful products!" Molly - Seattle, WA
"Your products are every bit as good if not better than the really expensive stuff. Definitely healthier!" Christine - Seattle, WA
ESSENTIAL INGREDIENTS: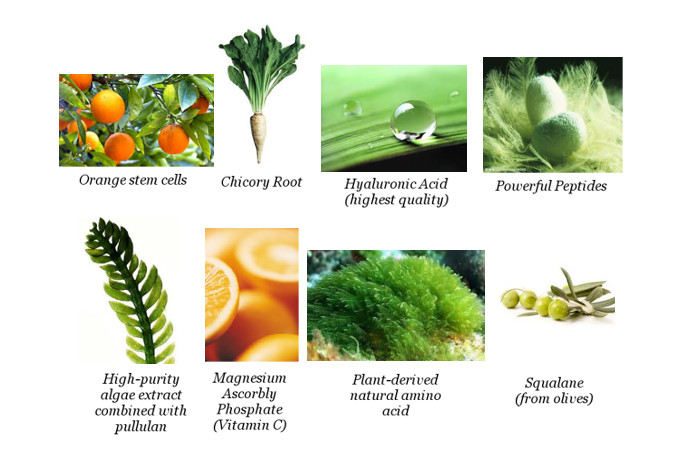 *Orange Stem Cells
: anti-aging skin care ingredient from Spain that works by organizing the inner structure of the skin for a younger appearance. It redensifies the dermis structure, repairs the extracellular matrix, and improves cellular adhesion. The result is skin that recovers the elasticity it had 12 years ago, with a softer and more velvety complexion, plus a younger appearance. In plants, stem cells are capable of regenerating the entire plant. The stem cells used in this ingredient is sourced from renewable plant material in a sustainable and ecological process, without genetic modifications or solvents.
*Chicory Root
: tightening and collagen synthesis action, visibly erases signs of fatigue, enhances features, enables smoother makeup application and extend its wearability.
*

Orchid Stem Cells:
Plant stem cells obtained from a Japanese orchid flower (Calanthe Discolor). In vitro studies with tissue cells have been found that orchid stem cells extracts are able to induce several growth factors and stimulate the production of tissue proteins (collagen, elastin).
Provides a broad rejuvenating effect such as restoring firmness and elasticity of the skin and redefining the contouring of the jawline and eye area (volume reduction). R
educes appearance of fine wrinkles, dull and rough skin.
*Lupinus Albus Seed Extract:
E
xtracted from the coatings of sweet white lupin seeds.
A
nti-aging and firming ingredient that stimulates the synthesis of a high-quality collagen to increase elasticity and firmness in the skin, helping to remodel the facial contour.
*Hyaluronic Acid
(highest quality):
Biotechnologically produced from glucose, soy peptone & yeast extract.
Responsible for tissue hydration, lubrication, & tissue stability and holds 500 times its own weight of water.
N

aturally found in the body. Secures moisture and creates fullness—youthful skin. Vital natural substance that's a youth-supporting part of skin that works to keep every aspect of skin stable, safeguarded, and constantly renewed. Hyaluronic acid can enhance moisture content beyond comparison with anything else, and at the same time revitalize skin's outer layers so they look and feel softer, smoother, and, especially, radiantly hydrated. That's how it instantly improves the appearance of fine lines and wrinkles.
*Powerful Peptides
: Peptides are very small pieces of proteins consisting of various numbers of amino acids. They are the most important part of all body and cellular activity. All proteins and enzymes which regulate metabolism are composed of peptides. For our skin, peptides can act as a filler which boosts hyaluronan (hyaluronic acid) production and remodels facial contours, firming the skin from the inside out, resulting in reduced appearance of wrinkles and sagging skin. Peptides also signal your skin to make more collagen and are effective in improving the appearance of fine lines, smoother skin and release of deeper wrinkles. They also have excellent moisture-holding properties.
*High-purity algae extract combined with pullulan
: Tightens skin, short and long term. Protects skin cells from oxidative stress, strengthens skin's connective tissue by stimulating collagen synthesis and renewing tissue cells. Pullulan can also retain moisture.
*Plant-derived natural amino acid:
Essential for skin collagen synthesis with long-lasting firming and moisturizing effects. Improves appearance of wrinkles by stimulating the synthesis of collagen fibers, inhibition of age promoting elastase enzymes, and inhibition of free radicals.
*Magnesium Ascorbly Phosphate (Vitamin C)
:Potent anti-oxidant (protects skin from oxidation), can improve appearance of aged skin (improves skin elasticity by enhancing collagen production), excellent non-irritating skin whitening agent that inhibits skin cells to produce melanin, lightens age spots.
*Squalane
: Known as 'Nature's Facelift'. High purity botanical lipid obtained from olives. It mirrors human lipids in molecular structure and weight and is absolutely essential oil for the skin when a regenerative effect is desired. The skin has sufficient levels when it's young, and healthy. As we age the levels drop considerably and by the time we're in our mid-thirties, and forties, we no longer have sufficient levels to maintain healthy skin. It is believed that this drop off is, in part, responsible for many of the signs of aging skin, including the tendency to become easily damaged, thinner, and lack lustre. It can help to replenish the natural levels lost through the normal aging process, contributing regenerative activity to restore a more youthful appearance, and resistance to inflammatory conditions.
*Organic Licorice Root

: gentle
skin lightening agent, so
othes the skin. Ideal for irritated skin. C
ontains glycyrrhetic acid and flavinoids that have antioxidant and regenerative properties.
*
Poria cocos
:

W
ell-known fungus in Asian traditional medicine used as a purifying, antioxidant and softening agent. R
ich in polysacchrides (pachyman) and triterpenes. M
ulti-functional active ingredient which increases skin thickness, radiance and microcirculation, and reduces the appearance of wrinkles.
*

Marshmallow Root Extract

:
High-purity extract from European marsh mallow roots (Althea Officinalis L.). The plant is well-known for its anti-irritant, soothing and emollient properties.
Contains mucilage which is rich in asparagine, pectin, starch, polysaccharides, betaine, tannins, galacturonic acid, glucuronic acid, and galactose, mineral salts, and vitamins (A, C, E and B complex).
Provides effective soothing, anti-irritant and moisturizing properties.
Ideal for irritated and sensitive skin,
*
(Contains 1% Soy)
Extra Ant-Aging formulation ingredients

: purified
water, triglyceride, ichorium intybus root oligosaccharides, caesalpinia spinosa gum, squalane (from olives),
Citrus Aurantium Dulcis Callus Culture Extract (orange stem cells), Algae extract, pullulan, Acetyl hexapeptide-8, Tetradecyl Aminobutyroylvalylaminobutyric Urea Trifluoroacetate (and) Magnesium Chloride (and) Glycerin), Glyceryl stearate, PEG-100 stearate, cetyl alcohol, Magnesium Ascorbly Phosphate (Vitamin C), Sodium hyaluronate, Glycerin, leuconostoc/radish root ferment filtrate, lonicera japonica (honey-suckle) flower extract, lonicera caprifolium (honeysuckle) extract, populus tremuloides bark extract, glucono-lactone,Benzylalcohol dehydroacetic acid, Dipalmitoyl hydroxyproline (Plant-Derived), Helianthus Annuus (Sunflower) Seed Oil and Lupinus Albus Seed Extract,
Poria Cocos Polysaccharide,
Glycyrrhiza Glabra (Licorice) Root Extract,
marshmallow (Althea Officinalis) root extract,
Cymbidium Grandiflorum Flower Extract (Orchid stem cells),
Aesculus hippocastanum (Horse Chestnut) seed extract,
Rosmarinus officinalis
(Rosemary)
Leaf Oil
.
'Outdoor's formulation ingredients: purified water, triglyceride, titanium dioxide, ichorium intybus root oligosaccharides, caesalpinia spinosa gum, squalane, zinc oxide, Citrus Aurantium Dulcis Callus Culture Extract , Algae extract, pullulan, Acetyl hexapeptide-8, Tetradecyl Aminobutyroylvalylaminobutyric Urea Trifluoroacetate (and) Magnesium Chloride (and) Glycerin), Glyceryl stearate, PEG-100 stearate, cetyl alcohol, Calanthe Discolor extract, xanthan gum, sodium benzoate, gluconolactone, calcium gluconate, Magnesium Ascorbly Phosphate, Sodium hyaluronate, Glycerin, leuconostoc/radish root ferment filtrate, lonicera japonica flower extract, lonicera caprifolium extract, populus tremuloides bark extract, glucono-lactone,Benzylalcohol dehydroacetic acid, Dipalmitoyl hydroxyproline, Helianthus Annuus Seed Oil and Lupinus Albus Seed Extract, Poria Cocos Polysaccharide, Aesculus hippocastanum seed extract, Glycyrrhiza Glabra Root Extract, marshmallow (Althea Officinalis) root extract, Cymbidium Grandiflorum Flower Extract, Rosmarinus officinalis (Rosemary) Leaf Oil.
Olive Branch products are handmade from the finest natural ingredients, free of parabens, dyes, petroleum, alcohol, artificial fragrances and artificial flavors.
Our products are tested only on us, never on animals.
For women and men.
Related Products